Kaya Scodelario was in Paris to attend Loewe's fashion show on March 04. She was wearing pieces from the brand. She is absolutely stunning. Find pictures of this event in the gallery:
8 years in the making! Kaya Scodelario's long awaited unreleased movie is finally out! The King's Daugther follows King Louis XIV's quest for immortality leads him to capture and steal a mermaid's life force, a move that is further complicated by his illegitimate daughter's discovery of the creature.
This movie is where Kaya and her husband Benjamin Walker met! For the occasion, several stills, posters and behind the scenes pictures got released as well as a new official trailer! Movie was distributed in selected cinemas in the US and Canada in January 2022. No worldwide release seems to be scheduled so let's wait for a digital one!
Hi Kaya fans! Sorry for my absence, I was really busy. Back on November 29, our very gorgeous and very pregnant Kaya Scodelario had attended the British Fashion Awards in London. Her preparation was filmed by Vogue. If you watch the video, when talking about her baby she says "she". George might have a sister! Kaya has given birth sometime during December 2021. 
Find also all Resident Evil pictures below, I'm sad we didn't get promo for this movie!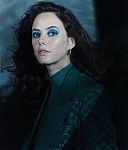 FLAUNT – For many actors, the trajectory of a dream career in Hollywood often points to one thing: franchises. More and more, we see Tinseltown churning out the next generation of superheroes, spies, and Jedis, with leads plucked from relative obscurity, transformed overnight into household names. A beacon of hope and inspiration for many in the fickle film industry, the franchise is representative of both recognizability and riches—the universal sign of making it. But Kaya Scodelario has already paid her dues to the Blockbuster Gods. Now, she has something else in mind.

Scodelario, who is perhaps best known for her role as Effy Stomen on the British cult classic Skins, has taken on several recognizable roles in some of the most memorable action series in recent memory. She's done a turn as Teresa in The Maze Runner, Carina in Pirates of the Caribbean, and Claire Redfield in the upcoming Resident Evil: Welcome to Racoon City. Over the course of her 14-year career, the 29-year-old English actor has worn many hats, tackling dystopia, pirates, ice skating, serial killers, aristocracy, mermaids, and—perhaps most challenging of all—the throes of teenage girlhood. But she is ready for the next chapter.