Archive for the 'Interviews' Category
Hi Kaya fans! Sorry for my absence, I was really busy. Back on November 29, our very gorgeous and very pregnant Kaya Scodelario had attended the British Fashion Awards in London. Her preparation was filmed by Vogue. If you watch the video, when talking about her baby she says "she". George might have a sister! Kaya has given birth sometime during December 2021. 
Find also all Resident Evil pictures below, I'm sad we didn't get promo for this movie!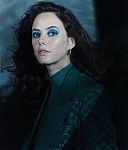 FLAUNT – For many actors, the trajectory of a dream career in Hollywood often points to one thing: franchises. More and more, we see Tinseltown churning out the next generation of superheroes, spies, and Jedis, with leads plucked from relative obscurity, transformed overnight into household names. A beacon of hope and inspiration for many in the fickle film industry, the franchise is representative of both recognizability and riches—the universal sign of making it. But Kaya Scodelario has already paid her dues to the Blockbuster Gods. Now, she has something else in mind.

Scodelario, who is perhaps best known for her role as Effy Stomen on the British cult classic Skins, has taken on several recognizable roles in some of the most memorable action series in recent memory. She's done a turn as Teresa in The Maze Runner, Carina in Pirates of the Caribbean, and Claire Redfield in the upcoming Resident Evil: Welcome to Racoon City. Over the course of her 14-year career, the 29-year-old English actor has worn many hats, tackling dystopia, pirates, ice skating, serial killers, aristocracy, mermaids, and—perhaps most challenging of all—the throes of teenage girlhood. But she is ready for the next chapter.
INSTYLE – Kaya Scodelario is simultaneously incredibly open, and incredibly polite. When we speak on the phone, the first thing she does is thank me for taking the time to talk to her, before jumping into a conversation rife with casual swear words, addressing me like I'm her best friend. She calls me "love" so many times that it almost feels like we've known each other for years — as if she's calling from around the block, and not London, where she was raised and where she's currently based with husband Benjamin Walker and their three-year-old son.

"It's where all my friends and family are, and my dog," she says. "I love being able to dip into Hollywood and L.A. life, and then come home to the pub."

It's easy to imagine being able to sit down with Scodelario for a pint at the end of a long day, venting, trading gossip, and having a laugh. There's a down-to-earth energy she's carried since her breakthrough as Effy Stonem in Skins, the gritty British teen drama that ran from 2007 to 2013 and launched her career, as well as those of Nicholas Hoult, Daniel Kaluuya, and Dev Patel, amongst others.
After a ten year break from television, Kaya Scodelario is back and ready for action. She kicked the year off by starring in Netflix's Spinning Out, an emotionally intense story centred on a figure skater's return to the ice after a serious injury. She's also taking the lead in a BBC One and Amazon Studios adaptation of Agatha Christie's The Pale Horse, set to be released in February.

While Kaya's certainly got a lot on her plate, Spinning Out is a project she holds especially close to her heart. Following the release of the show, Schön! spoke with the English actress about filming Spinning Out, its biggest challenges and what a second series might look like.