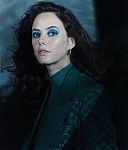 FLAUNT – For many actors, the trajectory of a dream career in Hollywood often points to one thing: franchises. More and more, we see Tinseltown churning out the next generation of superheroes, spies, and Jedis, with leads plucked from relative obscurity, transformed overnight into household names. A beacon of hope and inspiration for many in the fickle film industry, the franchise is representative of both recognizability and riches—the universal sign of making it. But Kaya Scodelario has already paid her dues to the Blockbuster Gods. Now, she has something else in mind.

Scodelario, who is perhaps best known for her role as Effy Stomen on the British cult classic Skins, has taken on several recognizable roles in some of the most memorable action series in recent memory. She's done a turn as Teresa in The Maze Runner, Carina in Pirates of the Caribbean, and Claire Redfield in the upcoming Resident Evil: Welcome to Racoon City. Over the course of her 14-year career, the 29-year-old English actor has worn many hats, tackling dystopia, pirates, ice skating, serial killers, aristocracy, mermaids, and—perhaps most challenging of all—the throes of teenage girlhood. But she is ready for the next chapter.
"I want to focus on doing a bit more of the homegrown indie stuff," she tells me over Zoom. Scodelario, who likens the Pirates of the Caribbean set to "watching Disneyland unfold in front of your eyes," is unquestionably grateful for her box office toppers of the past, but holds a certain fondness for the bare-bones nature of independent films. "I miss being in a muddy field with no catering and no trailer and just acting."

Johannes Roberts, writer/director of  the new Resident Evil says that Scodelario's no-nonsense and gung-ho mentality are what sold him on her, which seems congruent with her desire to get down and dirty. "She just rolls up her sleeves and gets stuck in," he shares. "I thought, 'This is the perfect girl for my movie,' and then when we first spoke, she arrived on Skype with no make-up and a glass of wine, and I thought, 'Yeah, this is the person I want for Claire.' This isn't some precious Hollywood starlet."

Scodelario spent part of the pandemic in New Zealand working on Don't Make Me Go, an independent film that helped to reinvigorate her love of the craft. The film, which stars John Cho, follows a single father with terminal brain cancer who takes his teenage daughter on a road trip to find her estranged mother, and attempts to prepare her for life along the way. While Scodelario doesn't have a huge role in the film—she refers to it as "a cameo"—she plays the love interest of John Cho's Max. The project's writer and director, Hannah Marks, insisted that, "Kaya's character Annie provides a lot of heart and importance."

While Don't Make Me Go isn't the typical headlining role fans can expect from Scodelario, what drew her to the project was Marks, whom she is eager to praise. "She just has this energy about her," Scodelario remarks. "It's people like that I want to work with from now on." When Scodelario learned of Don't Make Me Go, she jumped at the chance to work with Marks. "I just wanted to be around her," she says emphatically. "I just wanted to support her and lend my name to her project, because I just think it's so inspiring, and she's so motivated and she's kicking ass." Marks, for her part, was just as inspired by Scodelario. "I've been a fan of Kaya's since her role on Skins," she says. "Anytime I've seen her performances, I've been blown away by her versatility and authenticity. She puts in the work while also making it feel effortless."

Scodelario has reached an enviable point in her career in which she is able to be selective about the projects—and people—she attaches herself to. And she intends to use that power for good. "I want to find women just starting out their writing careers, or that want to direct and never have before. I want to give them a voice, and I want to work with them, and I want to create with them." She stresses that the process is just as much a learning experience for her as it is for women who are just finding their footing in the industry. "My focus in the next few years is to use my platform to help other women, and also learn from them and experience that sort of environment. These big-budget movies can be a lot of fun, but also are usually directed and produced by middle-aged white men that have been doing it their whole lives and don't seem to have a love for it anymore. I'm excited to work with creators that are still new and fresh and hustling."

Gender inequity isn't just taking place behind the screen, though. Scodelario emphasizes that over her career, she has always been fortunate to portray multi-faceted, three-dimensional characters—a luxury that not all performers in her demographic can boast. "I've never been interested in playing just the boring pretty girl, because I've never met a boring pretty girl," she declares. "Every woman I've ever met has been interesting and flawed and damaged and strong and beautiful and reckless and everything in between. I've never met a two-dimensional woman, so I'd never want to play one, because it's just not realistic to me. It doesn't exist."

As she approaches her thirtieth birthday, Scodelario is becoming ever more cognizant of the sexist shift in roles offered to women in their thirties and beyond. "I don't understand this weird idea that we have in Hollywood that once an actress hits a certain age, she can no longer play any roles. Because the older I get, the more I'm going to learn and the better I'm going to be—the same with every actor, right? I feel like this is just the beginning. I want to keep playing weird ice skating, crossbow-launching fish-tailed, blue-haired, crazy people forever!"

One particular relegation for actresses over a certain age that Scodelario resents is the mother figure. As a mother to a four-year-old boy herself, she does not view motherhood as the end, but rather the beginning. "It's definitely not mom jeans from now on. Fuck that, I'm a mum, and I don't want to play a mum. I want to do everything. All of it."

Though portraying motherhood on screen does not currently reside on Scodelario's to-do list, she is nothing short of devoted to her family in real life. She may have been off working on international shoots for part of the pandemic, but she also got to set down roots in North London with her husband, actor Benjamin Walker, and her son. "Me and my husband realized it was the most consecutive days that we've been around each other since we got married seven years ago, and we haven't gotten divorced," she jokes. "So, I think it went well."

She continues, "We became this sort of feral little family, in each other's pockets, and playing make believe every day." One thing that struck Scodelario, who is currently expecting a second child, was the level of recognition that her young son exhibited over the course of lockdown. "I didn't realize that at four-years-old he'd really understand what was going on, but he does. We realized one day he told me that his dolly was sick," she recollects, "and I was like, 'Oh no, what's wrong with her?' And he said that she had coronavirus. I didn't realize that he'd even heard the name, the word 'coronavirus,' but they do pick up on what's going on, so there's no point trying to hide it. I think you just have to be really honest with your kids."

An actress well versed in dystopia and calamity, the threat of (unsimulated) catastrophe certainly took its toll on Scodelario, as surely no amount of pretending can prepare a person for the real deal. There is a certain irony about leaving family behind for work in the throes of a cataclysmic pandemic, only for said work to encompass another, separate, apocalyptic timeline. As Resident Evil became one of the very first film productions to dip a toe into mid-pandemic filming, Scodelario recounts the challenges she faced beyond the new normal of set life. Resident Evil: Welcome to Racoon City explores the looming wickedness of a nefarious pharmaceutical company, whose exodus turns the once-bustling Racoon City into a desolate Midwestern hellscape. The film was shot in Sudbury, a mining town about four hours north of Toronto, once inseparable from its reputation as an environmental wasteland. Scodelario counts the film as "the toughest job, mentally, I've ever had to do."

The aforementioned writer and director of the film, Roberts, concurs. "Hardest thing I have ever done," he says via email. "The covid protocols put a barrier between me and the cast that we had to overcome, but we did it through humor—Kaya is very very dry and funny. I think, in the end, the madness of the situation brought us closer and weirdly helped us get into the mindset of the characters, where their world is falling apart because of a virus leak!"

Scodelario adds, "It was winter, and it was all night shoots, so I didn't see daylight for three months. It was freezing cold, and the town was in a semi-lockdown. So we were either in bed, sleeping through the day, or on set at night. I couldn't bring my family with me because of covid, so I was on my own." In the end, though, Scodelario is immensely proud of the production, which was made during one of the pandemic's lofty peaks.

Film and TV is one of the greatest acts of escapism that we have at our disposal, and it's jarring to remember that even the people who create these outlets for a living also need room for catharsis, too. The actress, like many others, turned to media as a distraction during lockdown. While she counts Below Deck and the British miniseries Quiz as some of her favorite tools of fantasy, many people—particularly members of Gen Z—turned to Skins.

Scodelario admits that she never expected the show to make it to a second season when she began filming at age 14, and is heartened by the impact that her debut role continues to have after all this time. "You'd think that there wouldn't be such a broad audience for it, but it does feel like every few years there's a new generation that discovers it and seems to appreciate it," she says. In a time in which we were forced to turn all of our living, breathing relationships into ones and zeroes, there is something especially touching about a risk-taking series, created prior to the advent of social media. Scodelario theorizes: "I think there's something about the generation now that enjoys watching that—a time before your online presence was the most important thing in the world."

As persons like Scodelario continue to amass experience and influence, perhaps we'll witness an impressive and inspiring sea change—one that champions risk-taking and belief in the younger generation of which she speaks. And perhaps, like so many before and as she herself has experienced in her journey, that which is the most important thing will soon transform into something magically new and meaningful altogether.