Trivia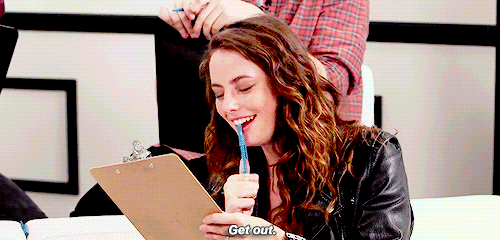 Find here some interesting or funny informations about Kaya Scodelario. Do not copy!
Is fluent in Portuguese.
Her full name is Kaya Rose Humphrey.
Has a french bulldog named Arnie.
Is dyslexic.
She is a big fan of Arnold Schwarzenegger.
Has a tattoo that says "Ben" (the name of her actor husband Benjamin Walker) in cursive script on the inside of her left ring finger.
Her father was English. Her mother is Brazilian, and has Italian and Portuguese ancestry.
Said that she does not speak a word English with her mother. Both are only conversing in Portuguese, which is her mother's native language.
Kaya usually keeps a piece of costume jewellery from each character she portrays. Her keepsakes include Effy's (Skins (2007)) rosary beads, a necklace from Spinning Out (2020), and a thin gold chain used in Wuthering Heights (2011). She insists jewellery is one of the most important parts of building a character.
Close friends with Skins (2007) co-actresses Kathryn Prescott, Megan Prescott, Klariza Clayton and Lily Loveless. Megan, Lily and Klariza were the bridesmaids at her wedding.
Her favorite actress is Helen Mirren.
Says she farts a lot.
Lied about her age to audition for Skins.
Says she's terrible at sports and lazy.
She met her husband (Benjamin Walker) during the filming of 'The King's Daughter" in 2014.